If you ever needed to print an image in png or jpeg format, scale it, or order a custom print on a garment, you may have had some unpleasant surprises. The image may become blurry or lose clarity or quality. This implies that you are working with a raster image when it occurs. Therefore, vector graphics are more enjoyable to use to avoid this type of problem. But what is vector graphics, and what are its uses? Read on to learn about vector images.
What Is Vector Graphics?
A vector image is a graphic created using an illustration software program such as a well-known editor like Adobe illustrator with the help of vectorization services. They are different and opposite from raster graphics. It consists of colored dots-pixels arranged to display an image.
Minimizes vector images without losing their quality. It allows the rendering of the image in any size. Vector represents the path to the mathematical formulas used by each software program.
Vector graphics can be created by adding lines and curves.
It consists of lines called paths, which are mathematical formulas based on a principle.
It uses a mathematical equation to create shapes.
Vectors usually produce a better and more detailed image.
In vector images, high quality is determined based on a formula.
However, their size can be changed on computer graphics without compromising resolution.
The Most Used Types Of Vector Images
Editing programs like Adobe Illustrator and CorelDRAW allow you to create and modify vector images and photographs. Vector files have different formats you can process in one or more vector format-specific software. Check them out below.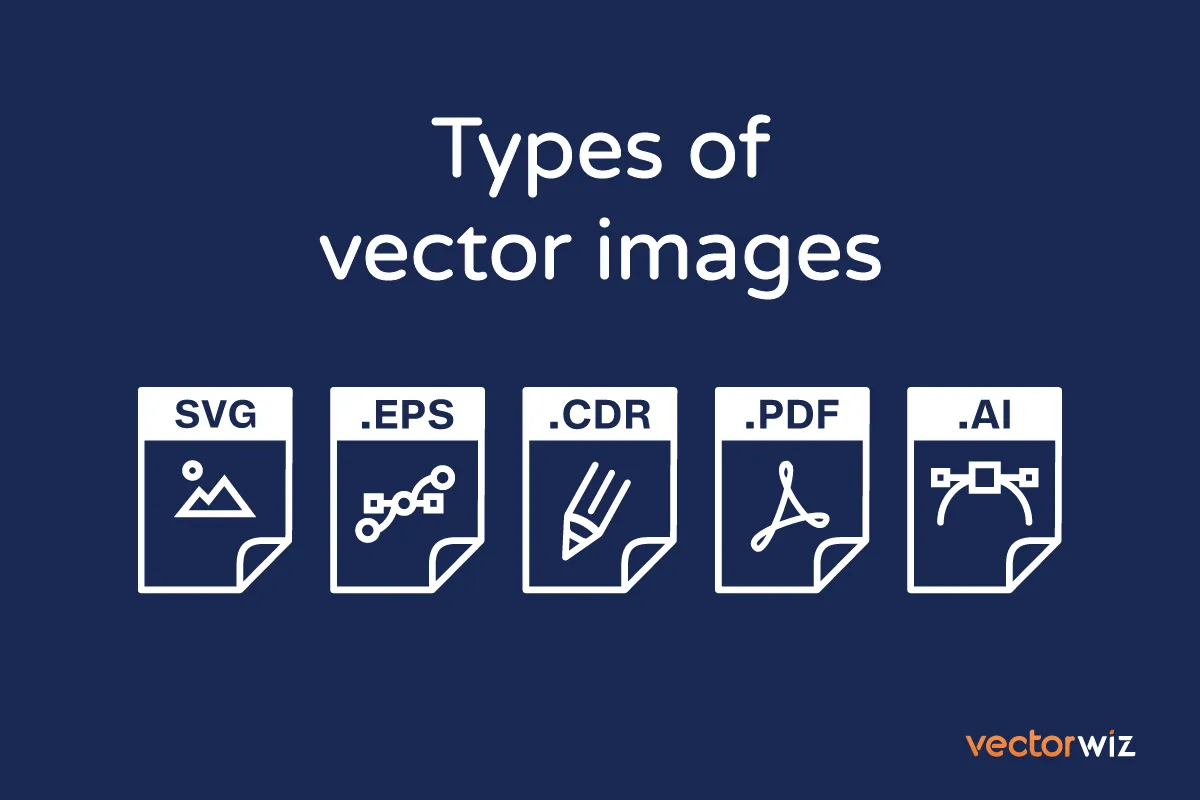 AI: a well-liked format built into Adobe Illustrator in which vectors keep their quality even when scaled up significantly. Only this program can handle AI files because all other editors convert AI files to PDF before beginning the editing process. Additionally, the created file is linked to the used Adobe Illustrator version. Thus you cannot edit older files in the newer program.
CDR: You can edit and save vector pictures with various visual effects using CorelDRAW's native CDR format. For instance, you can include typefaces or make many pages and edit them individually in a CDR file.
PDF: Cross-platform vector format that you can process in various Adobe applications and other editing software. This format is best used for vector images that contain text, such as logos, documentation, and presentations. To find out if your PDF file contains a vector image, zoom in to see if there is pixelation.
EPS is an acronym for Encapsulated PostScript, a flexible format created by Adobe. This vector format is suitable for producing high-quality printed materials. You can process EPS in various online tools and downloadable graphics editors.
SVG: popular multifunctional format based on XML markup language, is predominant for creating web pages. SVG allows for storing graphics, animation effects, and text in a single file. You can work with text editors and graphic editors for vector format.
Benefits Of Using High-Quality Vector Images
Creators often use vectors in their designs because they make it easy to create high-quality visuals for various presentations, documents, and websites. Also, discover five reasons to use vector images in your projects.
Easy scaling. You frequently need to zoom in and rotate files when working with visual content. Small raster images become pixelated after enlargement, which can ruin your project. Vector images retain their quality even after considerable zooming and scaling. Their graphics maintain clear and smooth lines.
Editing flexibility. In vector images, shapes are distinct and editable. Open a vector file in a graphics editor and try editing the image elements. For example, you can recolor the background of an image, remove lines or enlarge the text. This is a useful feature for designers to customize icons, logos, and artwork.
Reduced size. Raster, or bitmap, files store information about each pixel in the composition and can weigh more than 100 MB. In contrast, vector files keep only point coordinates and weigh up to 5 MB. Image directly affects the loading speed of a website. This is why online businesses usually use vector formats on their platforms.
Quick conversion. Graphical editors allow files to be saved in several formats. You can instantly convert vector images to raster images by choosing PNG or JPEG configurations. But converting raster images to vector format is more complicated. For that, you have to use graphic editors and their vectorization tools.
The great versatility of use. You can use the same vector image to put a small logo on a website or place it on huge banner ads. Using vector images to create a nice t-shirt with a clean print is also better. Also, popular magazines use vectors to create high-quality print visuals.
10 Common Uses Of Vector Graphics
There are many creative ways to use vector images in your work. Here we present top 10 of them:
Websites
In websites, vector graphics are frequently used. It offers the website a polished appearance. A website must also appear equally professional on both computers and mobile devices. You may ensure your website's visual appeal by using these kinds of images. Additionally, it speeds up the loading of online pages.
Illustrations
If you are an illustrator, you must use vector graphics and enjoy creating art. You can sketch clearly and precisely, thanks to it. It also has a considerably more polished and clean appearance. You can display vector images without sacrificing quality because of their excellent scalability. As a result, you can create your artwork as a vector image and update it digitally whenever you like.
Logos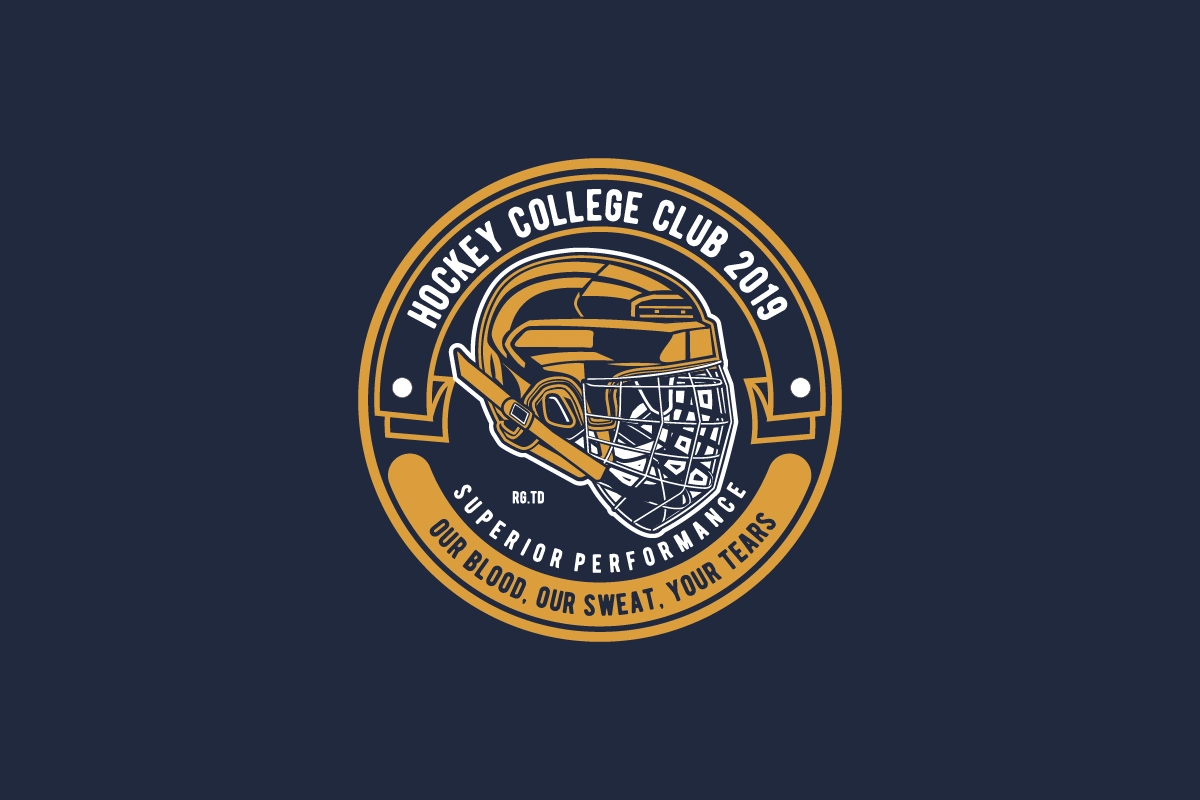 Because they are scalable, vector graphics are typically used to create logos. No worries about the quality being compromised because you may scale up or down as much as you desire. Additionally, you utilize your logos for things like posters, business cards, billboards, and many other things. Therefore, a vector logo is best because it must be clear, professional, and sharp.
The extreme flexibility of vectorized graphics makes them an excellent choice for logo design. The logo file can be exported to raster formats like PNG, JPG, GIF, AI, PDF, and SVG. Due to their modest size, they don't take up much space and are simple to alter. Lastly, you won't have to be concerned about the resolution.
Printings
Vectorized graphics are commonly used in the printing sector. Newspapers, product labels, magazine covers, book covers, and page layouts are all created using vector formats. The designs have a far better appearance than bitmaps because of the clear visibility and scalability of their form of images. Thus, it is one of the several applications for vector illustrations that are most frequently used.
Embroideries
Vector files can be converted into embroidery files. In actuality, vector files are primarily utilized for computer embroidery. A vector file can be created by converting an embroidery file. The embroidery industry depends on vector images, much like many other industries do.
Animations
Vector Graphics can be used for a variety of animation purposes, such as creating animations for games, creating wireframes or conceptual illustrations, and creating motion graphics. Vector Graphics can be easily edited in software like Adobe Illustrator or Inkscape, making them a versatile tool for animators. Vector Graphics can also be saved as bitmaps for use in other applications.
Billboards
Vector graphics have become more and more popular for creating billboards. They are easy to edit, and the results look professional. Anyone with basic computer skills can make changes to a vector graphic. This means that you can quickly and easily change the design of your billboard if it is not working as expected. Vector graphics are professional-looking. They look like they were created with a higher-end graphics program, which gives your billboard an edge over competitors.
Magazine Covers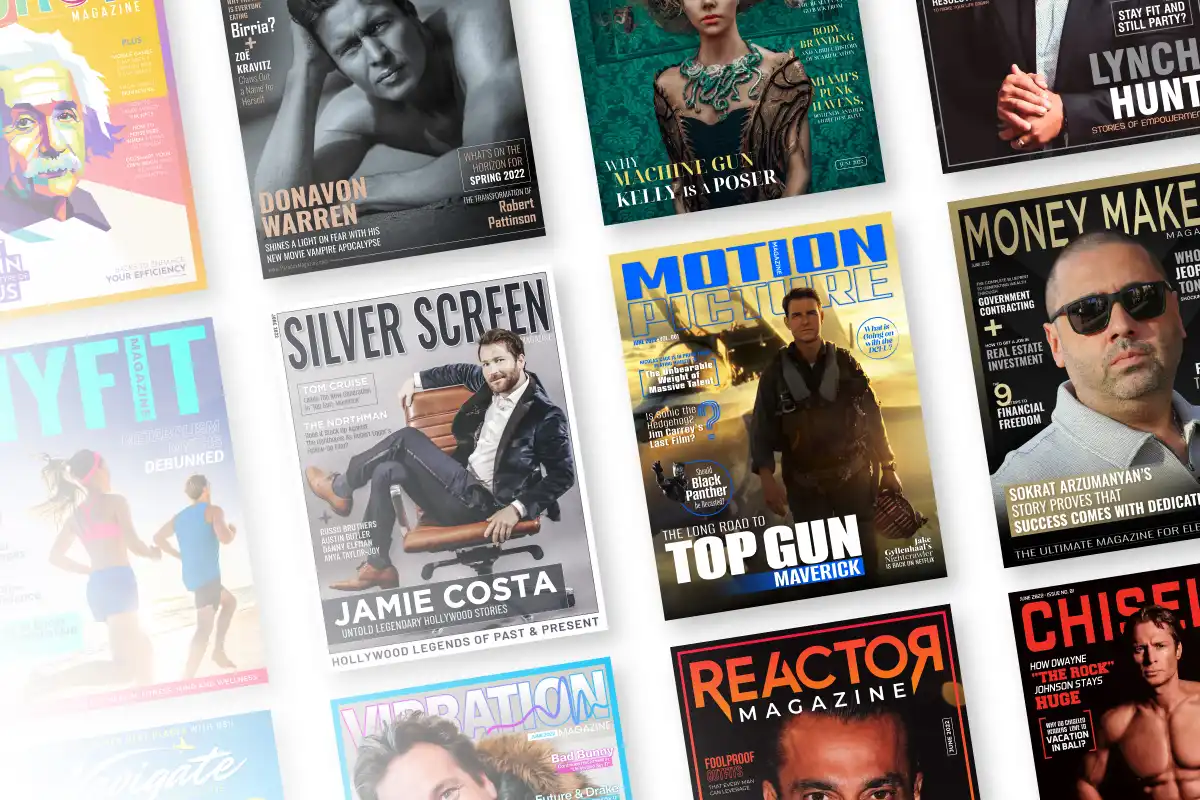 Vector Graphics are commonly used for magazine covers, as they lend a high-quality look that stands out from the crowd. They are resolution independent, meaning they can be scaled up or down without losing image quality. This makes them ideal for printing on a wide variety of different types of media.
Signs
Signs come in various sizes and styles, many of which are created utilizing an original vector graphic. If not, it will be difficult to understand what the sign is trying to say.
Infographics
Infographics are a lovely and visually pleasing method to present data in a straightforward format. The information covered by the statistics and data is clear to the audience.
Vector infographics give the graphics a little more depth and richness, enhancing their visibility and ability to draw viewers. Your business can gain by attracting more potential customers and business partners by using vibrant and alluring images packed with insightful, simple-to-read information.
Conclusion
Vector graphics are the future of design. They can be used effectively across different projects, from simple illustrations to more complex designs and animations – their scalability makes them perfect whether you're working with print or digital media! Small file sizes also ensure fast loading times. If you're looking for an eye-catching way to showcase your work, vector graphics may be the perfect solution.
Frequently Asked Questions
I'm a designer. Can I use Vector Graphics to create my website or marketing materials?
Yes, vector graphics can be used to create any graphic design, from website graphics to social media graphics to product packaging. They can also be used in print advertising and, eventually, in products themselves.
What are the main benefits of using vector graphics?
Vector graphics have many benefits that include: cleaner and more organized designs, better print quality, faster rendering times, lower file sizes, and more. With so many benefits to consider, learning about vector graphics may be the best decision you ever make.
What is the difference between vector graphics and bitmap graphics?
Vector graphics are created with mathematical shapes that can be scaled to any size without losing quality. On the other hand, Bitmap graphics are composed of pixels arranged in an image file.
I've seen vector graphics used in many different ways. Is there a specific type of graphic design that they're best suited for?
Vector graphics can be used for various types of graphic design, but they're particularly well-suited for logos, illustrations, and other complex designs. They offer several benefits, such as precision and clarity, that can make your designs more legible and attractive.
What kind of files can I use for my vector graphics?
You can use any file for your vector graphics, but it's best to start with a small file and then enlarge it if needed. It's always good to have a copy of your file in case you make any changes or need to go back to it.